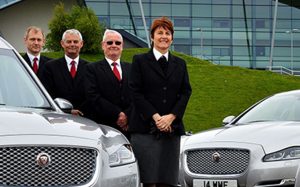 Long-established Funeral Directors John Morrell and Lynne Walker have joined the growing Funeral Partners family.
Fifteen years ago, the Tyne and Wear-based duo established Walker & Morrell Funeral Directors, which now becomes part of the UK's third largest funeral services business.
John Morrell joined the funeral profession almost 45 years ago, serving the communities of Washington, Gateshead and Sunderland, soon being promoted to Manager. In 2002 John decided to establish his own funeral business, and quickly asked his former colleague Lynne Walker to join the company.
Walker & Morrell's Gateshead branch opened hot on the heels of the original premises in Washington, followed more recently by a new branch in Houghton Le Spring, allowing the business to serve families across Tyne and Wear.
The business is very much a family affair, with John's youngest son Martin and Lynne's husband Raymond, son Andrew and niece Nicola working with the firm.
Lynne started work as a clerk with a major funeral company and worked her way up to become a Funeral Director. She said: "It's not a job, it's a vocation. When you have a bereavement, you need someone to reassure and comfort you and take everything off your shoulders. I love looking after the families and providing a very caring, personal service, carrying out families' wishes when they need you most."
John and Lynne will continue to work in the business. John explained: "Funeral Partners came across with warmth and a positive attitude, they were willing to listen to us and be flexible."
Funeral Partners' Regional Development Director Tara Cameron said: "Walker & Morrell have an excellent reputation in Tyne & Wear, priding themselves on the care and support they give to families.
We are delighted to be working with them and investing in the business, particularly as the North East is an area of the UK we are especially keen to develop our business in"
Any Funeral Directors considering selling their businesses should contact Funeral Partners Chief Executive Officer Sam Kershaw on 07834 531822, email: sam.kershaw@funeralpartners.co.uk