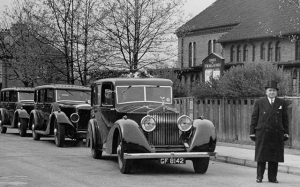 Four established funeral businesses in London, Greater Manchester, Kent and Berkshire have joined the growing Funeral Partners family.
North London family funeral business WH Putnam, Tameside family firm Raymond Massey & Son, Richard Lloyd Funeral Services, of Woodley near Reading, and Sterry Funeral Service of Folkestone and Hythe have all chosen to become part of the UK's third largest funeral services business.
Third-generation Funeral Director Keith Putnam and his sister Alana have retired after more than 40 years in family business WH Putnam, which was founded in 1929 by William Henry Putnam in Edgware. In 1950, the second branch opened in Streatfield Road, Stanmore, Harrow, and Keith and Alana grew up living above the premises.
Keith explained why he chose Funeral Partners: "I was impressed with their work ethic, they were family-orientated and wanted the business to continue to serve the communities of Edgware and Stanmore in the same way, with our remaining three members of staff carrying on with the firm. It was an easy choice."
While maintaining the firm's traditional community-oriented service, Keith said he had seen many changes during 42 years in the business. "Funerals changed the day Princess Diana died, with families' choice of music more prominent, and more friends and family speaking at the service."
Unlike his father and grandfather, who worked in the business until they died, both in their eighties, father-of-three Keith said he was planning to make the most of his retirement.
Raymond Massey & Son, which has also become part of Funeral Partners, was established by Raymond Massey in Dukinfield, in Greater Manchester, 30 years ago, after he branched out from the family business established by his grandfather in 1903.
The tradition has been continued by his son and daughter Sam and Amy Massey, who now run the business. Funeral Director Sam, who has worked in the firm since leaving school, said: "It was the natural choice to come into the family business. I enjoy meeting and supporting local families, and being able to provide them with a good service at what is the most difficult time for them."
While Raymond has officially retired, Sam and Amy will continue to manage the business, and are looking forward to the additional support Funeral Partners can provide. Funeral Arranger Amy said: "They can help us with community activities and provide additional support when we are busy. They have been flexible with us to ensure we can maintain the personal, local service we are known for."
Dr Richard Lloyd, a forensic toxicologist by profession, became involved in the funeral business almost by accident. He knew long-serving Funeral Director Colin Bennell from Reading, who wanted to work for a local, independent funeral directors. Richard established Richard Lloyd Funeral Services in 2006 with Colin running it.
He said: "Colin was brilliant, he was born to be a Funeral Director, he lived for the business and the local families he served – he even arranged a viewing for a family on Christmas Day one year."
Sadly Colin died from cancer four years ago and, although Richard appointed a full-time funeral director, as the business continued to grow Richard found it difficult to give it the time and attention it needed.
Richard explained: "I've always felt this is a special type of business – we have taken tremendous pride in being able to provide a caring personal service to local families."
Once he had decided to sell, Funeral Partners stood out as the company which seemed most able to continue the service the firm had built up over 11 years. "That came over from the first meeting with Funeral Partners," Richard said. "They were head and shoulders above other companies and held the same core values we had for the business."
Richard said he was looking forward to a continuing relationship with the firm on a part-time basis.
Clive Sterry has worked in the funeral business since he was 18 and established his own funeral firm in Folkestone, Kent, when he moved out of London in 2003. He opened his second branch in Hythe ten years later and has been joined in the business by daughter Rebecca.
Clive will continue to work at Sterry Funeral service while Alan Beattie, who joined him as business partner in 2014 at the Hythe branch, is retiring. He said: "When I decided to become part of a national funeral business, it was important to ensure they had the same values and would carry on supporting local families. That's why I chose Funeral Partners."
Funeral Partners Chief Executive Officer Sam Kershaw said: "I am delighted to welcome these four established businesses to the Funeral Partners family. All have an excellent reputation and have built strong relationships professionally in the communities they serve, priding themselves on giving families great care and support. We are delighted to be working with them and investing in the businesses."
Any Funeral Directors considering selling their businesses should contact Funeral Partners Chief Executive Officer Sam Kershaw on 07834 531822, email: sam.kershaw@funeralpartners.co.uk