What career development and benefits will I receive if I join Funeral Partners?
What benefits will I receive?
Enhanced annual leave
We offer an enhanced holiday allowance to create a better work life balance.
Bonus scheme
We like to reward our teams and have a bonus scheme in place to reflect teams achieving results.
Family & Friends discounts
We offer discounts for families and friends of our services.
Christmas vouchers
We recognise and reward people's hard work and commitment throughout the year with High Street vouchers issued in December.
Refer a friend scheme
Once employed, family and friends who are successful in joining Funeral Partners through your referral means you'll receive a reward for introducing them.
Employee Assistance Programme
Our employee's wellbeing is of the upmost importance to us. We have an Employee Assistance Program that can offer confidential advice regarding many issues including health and wellbeing.
Eye care
We contribute to the cost of an annual eye test, and if you need glasses for working at a screen we'll make a contribution towards the cost of the glasses.
Life assurance
Employees receive our 'life assurance death in service benefit' to give your loved ones some peace of mind.
Free office refreshments
All our offices are well-stocked with beverages for your own use.
Family-Friendly Policies
We have a range of family-friendly policies to support you through any major changes in circumstances throughout your career.
Regular Feedback Surveys and Project Groups
We encourage feedback through regular surveys and volunteering to get involved in project groups.
Work within the local community
Our teams are an integral part of the local community and we encourage getting involved, both in our own community events and with others.
Reward & Recognition scheme
We believe outstanding contributions and staff who go the extra mile should be rewarded throughout the year.
What career development will I receive if I join Funeral Partners?
Structured Induction
We offer a structured and supportive induction program with regular reviews and feedback.
Personal Development Plan
Following a personal development review, all members of the team receive a Personal Development Plan to support you in your career.
Career Progression
We regularly promote from within and have structured career paths for roles alongside development plans to support personal growth.
Professional Accredited Training
We have access to professionally accredited training for our funeral home roles and support development of our professional support roles.
Training workshop calendar
We have a rolling calendar of training workshops which are run companywide, ensuring there is always development workshops available in your region.
Management development
We believe in investing in the development of our existing management team as well as our managers of the future. Consequently, we have rolled out a new Management Development programme to support this.
How have Funeral Partners team members progressed?
Lauren Calvert – Apprentice Funeral Administrator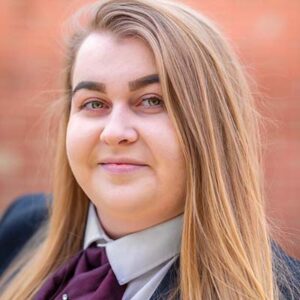 Lauren Calvert, 19 joined John G Hogg Funeral Directors in Sunderland in November as an Apprentice Funeral Administrator. Her Business Administration apprenticeship includes online learning, coursework and a final presentation and exam and her aim is to secure a distinction. Lauren says it is a great way for anyone to find out if the funeral industry is the right choice for them.
Lauren said: "John Hogg has really helped me and I've already had a lot of training. I couldn't imagine myself working for any other funeral directors."
Emma Moore & Kylie Gourley – Managerial Positions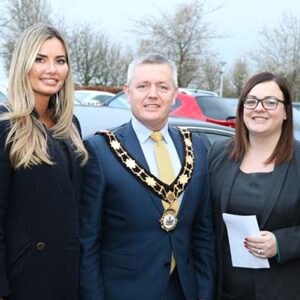 Emma Moore joined the profession as Funeral Arranger and has since worked her way up, now in a Senior Managerial role as a Branch Development Manager.
Emma said: "I started at Mulhollands of Carrickfergus as a Funeral Arranger for seven years. For the last three years, I have had the privilege of leading out teams in various management roles, progressing to branch development manager."
Kylie Gourley joined as a Fleeting Coordinator in 2016 and worked her way up to a senior position as an Operations Manager for Northern Ireland.
Kylie said: "I have been honoured to lead our teams in all aspects of the funeral profession, while supporting our local communities."
Emma Jayne McClure – Regional Support Manager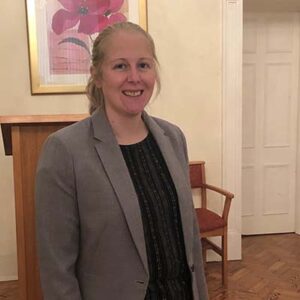 Emma Jayne McClure came into the business from a non-funeral background, previously working in retail, she has progressed her career and is now working as a Regional Support Manager.
Emma said: "I feel truly honoured to be able to support our teams, families and their loved ones."
Sarah Cairns – Funeral Director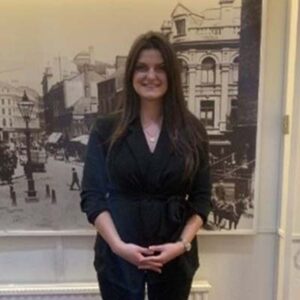 Funeral Director Sarah Cairns Johnstone joined the profession in 2017 as a Funeral Arranger, working across James Brown and Sons funeral homes carrying out office responsibilities and looking after funeral arrangements.
Sarah said: "I quickly realised I wanted to be more involved in the funerals I was arranging and, after several months, I took on the role of Funeral Service Operative. This helped me gain a better understanding of the funeral process, which led me to apply for the Funeral Director position in 2018".
View all current vacancies