The UK's third largest funeral business, Funeral Partners, has announced significant expansion with 18 funeral homes in Northern Ireland becoming part of its high-quality network.
The new businesses bring the total number of funeral homes in the Funeral Partners network to almost 200, maintaining the heritage of more than 100 family businesses across the UK. Funeral Partners becomes the leading funeral provider in Northern Ireland.
Chief Executive Officer Sam Kershaw said: "As our first funeral acquisition outside the UK mainland, these 18 Funeral Services Northern Ireland branches represent significant growth for Funeral Partners and an important addition to our high-quality network of businesses.
"These well-established funeral businesses have excellent reputations in their local communities and we look forward to working with the local teams and investing in the businesses to ensure they continue to provide a caring and professional service to local families in Belfast and across Northern Ireland."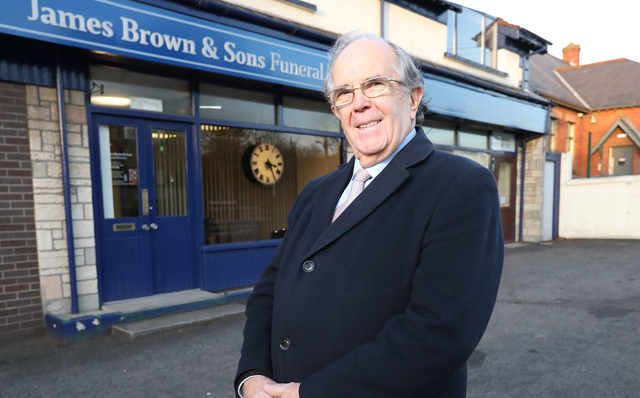 The funeral homes include century-old Belfast businesses James Brown & Sons and Houston & Williamson, Bairds of Antrim, which was founded in the late nineteenth century, Doggarts of Newtownards and other respected businesses in Belfast, Portadown, Derry/Londonderry, Dungannon, Larne, Bangor, Holywood, Donaghadee and Carrickfergus.
Regional Operations Manager Shona Burke, who will lead the renamed Funeral Partners Northern Ireland region, had been working with Funeral Services Northern Ireland for two years after many years working in retail services.
Shona said: "I'm looking forward to working with Funeral Partners, because they are fully funeral-focused and very keen for us to keep our heritage. They understand there are different challenges providing funeral services in Northern Ireland, as we operate differently from the mainland.
"These differences include the way we look after the deceased and the strong and very important traditions in the region. Far more families choose a burial for their loved one and these normally take place within three days. Funeral Partners understands these cultural differences."
Third generation Funeral Director James Brown MBE, whose grandfather founded James Brown & Sons, said: "I have been greatly encouraged by Funeral Partners' willingness to engage with Funeral Services Northern Ireland staff but, more importantly, to listen to their views.
"I have every confidence that the already excellent service which FSNI staff provide to bereaved people will be enhanced as a result of the change of ownership."
Fourth generation Funeral Director Jon Baird, whose great grandfather James founded Bairds of Antrim, said: "Funeral Partners share our core values, they understand that the families we work with are the foundation of all funeral businesses.
"I feel it's a very positive step because Funeral Partners understand the business, they understand why we're here and what we do and that is being part of the community, looking after the community and supporting local families."
For more information about Funeral Partners Northern Ireland, contact shona.burke@funeralpartners.com.
Any Funeral Directors considering selling their businesses should contact Chief Executive Officer Sam Kershaw on 07834 531822 or email: sam.kershaw@funeralpartners.co.uk