Family business G & M Goold Funeral Directors is proud and passionate about the service it has provided to the local community of Vicars Cross in Chester for the past ten years.
While husband and wife Geoff and Mandy Goold plan to continue offering their personal, family-oriented service, they have chosen to become part of the Funeral Partners network of businesses.
The couple have worked tirelessly to grow the business and its excellent reputation with the support of Mandy's sons Dan and Mike. Mandy explained: "I'm very passionate about the business. Geoff and I don't want it to change, we want it to carry on for the people of Vicars Cross and Chester.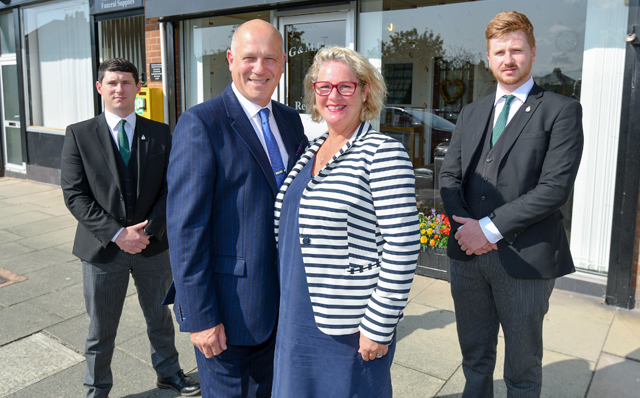 "Although it is no longer independent, it's still very much a family-run funeral directors, still offering that high quality personal service. We looked at Funeral Partners' ethos and they will let our business run in the same way we have run it. We will carry on serving the community, but Funeral Partners will look after the finances and admin, taking the pressure off so we have a better work-life balance."
Geoff has been a Funeral Director for 35 years, working for a number of funeral businesses in the Liverpool and Chester area, before meeting Mandy who was also working in the funeral profession.
After they married, it was Geoff's parents who gave them the belief, encouragement and financial support to set up G & M Goold.
"They definitely saw it become a success," said Mandy. "We're very proud of what we've achieved in such a short time, we've built this business from nothing, being on-call 24 hours a day. We believe we are the only husband and wife team in the Chester area and we've offered a very different, very personal service."
Mandy's children grew up in Vicars Cross, attending the local nursery and primary schools just yards from the funeral home. At 13, Dan had a newspaper round, collecting his papers from the newsagents then housed in what is now part of G & M Goold's premises.
Mandy said: "We've always been well known in the community. That's why we chose to set up here. We have sponsored the Vickers Cross Dynamos junior football team, which Mike used to play for, and recently contributed to a new play area for local children."
As the business grew, it expanded into the neighbouring shop enabling Geoff and Mandy to provide homely, welcoming premises. "People ask if we live here because it feels like someone's home. We have comfortable sofas and have tried to make it very relaxing," Mandy said. "A lot of people haven't dealt with funeral directors before and worry about walking in, but we give them a warm welcome straight away."
Both Dan and Mike served in the Army before joining the family business, both completing tours of Afghanistan. "The people of Vicars Cross have seen the children grow up and serve their community and serve their country," Mandy said.
"Dan and Mike are the second generation and will remain as the faces of the business. Families give them great respect and say it's so nice to have young men in this profession who are respectful and can show empathy. They've brought a lot of good qualities into our family business.
"Although Funeral Partners have taken over, we want local families to know our service won't change. It's still very much a family business and we're still going to offer that very personal touch.
"Funeral Partners will invest in the business and hopefully that means more jobs will be created for local people."
Funeral Partners Regional Development Director Julian Hodgkinson said: "We are delighted that Geoff and Mandy and their sons will be staying to support this highly-respected business to develop further."
Any Funeral Directors considering selling their businesses should contact Chief Executive Officer Sam Kershaw on 07834 531822 or email: sam.kershaw@funeralpartners.co.uk