Long-established family-run business Quinns of Greasby Funeral Directors has joined the Funeral Partners family.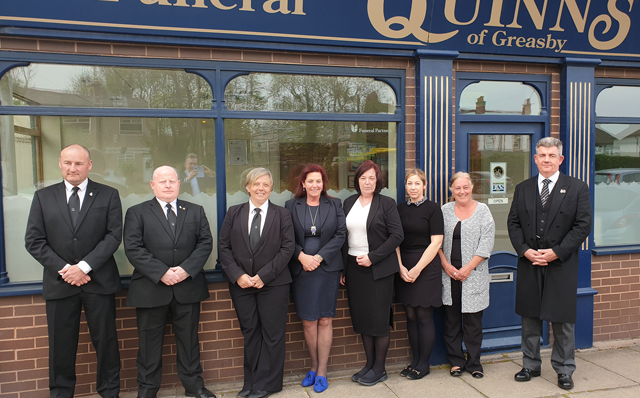 Run by sisters Lesley Quinn, Angela Dallinger, Tina Morris and Michelle Clark, Quinns was established in The Wirral by their late father David Quinn in the 1950s.
Originally a carriage master and bearer based in Greasby, David Quinn established the funeral business from his home in the 1960s in partnership with his wife Julie, moving to Greasby Road in 1966.
Eldest daughter Lesley was washing cars from the age of nine, before helping out in the office as a teenager. She gained management experience in several businesses and community projects in the Liverpool area before returning to work with her father in 1982.
Having provided cars for Whelan's Funeral Directors of West Kirby, her father took over this funeral home after the owner's death and acquired a property in Hoylake in 1982 to open his third branch.
The four sisters are now supported in the business by Angela's daughter Heather, who has achieved a foundation degree in Funeral Services. Lesley Quinn said: "As a family-run business, we have a really good team and have made a success of Quinns by going the extra mile for bereaved families.
"Funeral Partners will protect the heritage of our business and we can continue to provide the same levels of service while gaining protection for our future."
Funeral Partners' Area Development Manager Nick Wiscombe said: "It's an absolute privilege that this long-established family business which is renowned for its high levels of care and quality of service has become part of Funeral Partners' Merseyside area."
The team will continue to work with the close-knit communities of Greasby, West Kirby and Hoylake and support local activities. Lesley, a keen Crown Green bowler, has recently offered to teach residents of a nearby care home to play Boules. For more information about Quinns of Greasby, see http://www.quinnsfuneraldirectors.co.uk/.
Any Funeral Directors considering selling their businesses should contact Chief Executive Officer Sam Kershaw on 07834 531822 or email: sam.kershaw@funeralpartners.co.uk