Long established family business Ian Brown Funeral Directors in Carstairs has appointed a new funeral director as part of plans to secure its long-term future and growth.
In November 2018, the firm opened a new chapter in its history by teaming up with Funeral Partners, a leading UK network of funeral directors.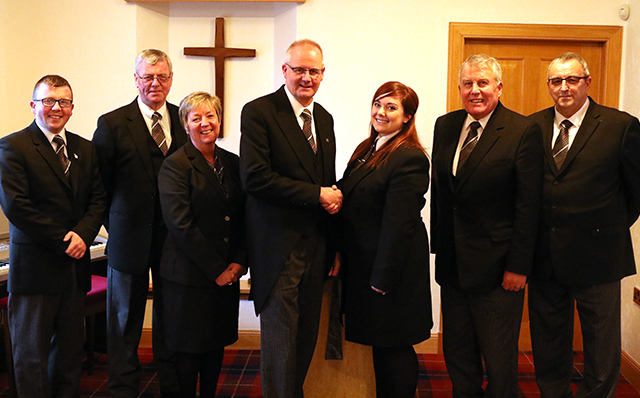 Now Shannon Maxwell-Doyle has been promoted from ML Williams of Ayr, also part of Funeral Partners, to become the new Funeral Director.
University of Glasgow graduate Shannon, who joined the funeral profession in 2017 after working in a number of caring roles with vulnerable people, said: "It is a privilege and honour to join a business which has been run by the same family for 60 years.
"I have had fabulous support from the team and the community already. Everyone has been so welcoming and accepting".
"I love working with families, being able to ease their stress and burden at such a difficult time in their lives is incredibly worthwhile and fulfilling. It means the world if I can manage to make someone's day a little easier".
Shannon will be working with Ian Brown Jnr, whose recently retired Father, Ian Brown Snr, acquired the business from Wm Gray & Sons in 1958 as a traditional joiners and undertakers.
In 1988 Ian Snr decided the business needed to focus solely on funerals. This ensured a professional, personal and value for money service to families was provided. The business then became known as, Ian Brown Funeral Directors.
His son Ian, who joined the business from school over 40 years ago said: "We are looking forward to the future with Funeral Partners. We all know the world is continually changing from technology to new legislation. These all impact a family business too and take time and energy. I wanted to ensure that the personal care and service, which has been my Father's focus, remains".
"Working with Funeral Partners allows me to concentrate solely on the funeral side of the business, the part of the job which means the most to me and will allow me to carry on my Father's values".
Ian and Shannon will be supported by Funeral Director Assistants Tom Duncan, David Howitt, James Stewart and Mark Evans with Ian's wife Linda continuing as a part-time Funeral Administrator.
Fraser Mackay, Funeral Partners' Operations Manager in Scotland said: "Shannon is a great addition to the team at Ian Browns. This is a high-quality funeral business serving the local communities and we are proud they have become our third funeral home in Scotland".
Ian Brown would also like to take the opportunity to reassure client families who have a Golden Charter Prepaid Funeral Plan, that they will not be affected by these changes and their plan is safe and secure with us.