Arthur Gresty - Our Story
Background
The origins of Arthur Gresty Funeral Homes date back to the 1930s, when Arthur worked as a self-employed car mechanic and became familiar with the funeral industry by loaning fleets of vehicles to funeral directors.
He began carrying out funerals and, after being joined by his son Robert, formally founded Arthur Gresty Funeral Homes in the 1970s. Robert took over the successful business after his father's death in 1988 and, seven years later, was joined by his son David Gresty, now Business Principal.
After helping Cedric Birkett to launch C L Birkett & Son Family Funeral Directors, the business forged a strong bond with David, who acquired C L Birkett & Son after Cedric's retirement in 2015. Cedric's son Paul Birkett remains with the business, managing the C L Birkett branches, and the pair have continued to strengthen the combined businesses and their links with the communities of Greater Manchester.
"Funeral Partners is definitely the best of all the scenarios you can move into from being an independent funeral director. It brings you a sense of security while letting you remain involved." – David Gresty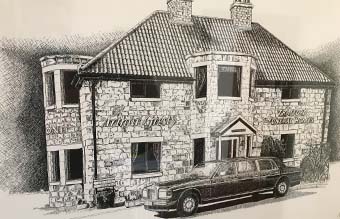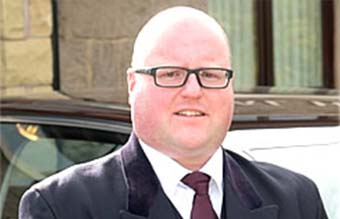 Considerations
Arthur Gresty Funeral Homes considered joining the Funeral Partners family at a unique time, with the ongoing Covid-19 outbreak creating unprecedented demand for quality funeral services and changing government guidance requiring funeral directors to rapidly adapt.
David said: "The Covid-19 outbreak was a wake-up call that made me realise my colleagues and I want to be there for bereaved families without being distracted or our time being taken away by important yet growing administration duties."
The former owner also wanted to preserve the reputation Arthur Gresty Funeral Homes had earned over the decades as a local, caring and family-run business.
David had kept in touch with key members of the Funeral Partners team over the years, watching the network grow through acquisitions and seeing the benefits it had to offer.
He said: "Funeral Partners was always our first choice if I was going to sell the business, as they will allow us to run business as usual. With the blessing of my late father, Robert, we were delighted to take this next step in our journey."
David looked forward to receiving managerial support to achieve his ambitions which, as an independent funeral director, he wasn't used to. He explained: "I've always run things solo, so receiving corporate assistance was something new and exciting, however also daunting."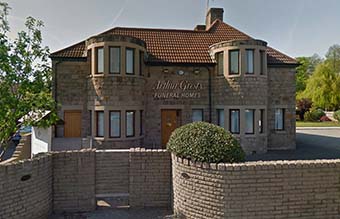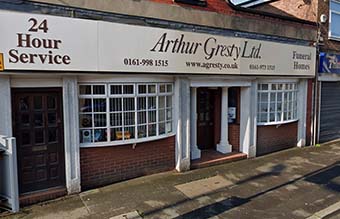 The Logistics
With social distancing restrictions back in full force by the end of 2020, and the year ahead remaining uncertain, Funeral Partners pulled out all the stops to help Arthur Gresty Funeral Homes transition into the network with continuous support and communication.
David said: "Steve Wilkinson and David McCarthy were brilliant. At least once per week they checked in with me and my teams, keeping us abreast of any upcoming changes and making sure we had everything we needed. David actually began helping with the acquisition process earlier than expected, which was much appreciated.
"My teams also felt comfortable speaking with Steve and David and expressing any concerns, which was important for me to see."
David found the due diligence process took longer than anticipated, but with frank and frequent conversations, Arthur Gresty Funeral Homes proudly joined Funeral Partners in December 2020.
Moving Forward
A year on, David and the rest of the Arthur Gresty Funeral Homes teams feel at home as part of the Funeral Partners family. 
David explained: "It's took about six months for us all to fully learn new processes and understand the new technology, but now we all feel very comfortable with what we're doing and how to do it."
David is pleased with the consistent support he receives from his Area Development Manager, Jon Potts, and is impressed by processes used by
Funeral Partners which have helped Arthur Gresty Funeral Homes grow.
He said: "We now send comments cards to families for their feedback, and the responses we've received have been incredibly positive as well as helpful in shaping how we do things."
Arthur Gresty Funeral Homes has also received investment from Funeral Partners to help it better serve the communities of Altrincham, Northenden,
Urmston and Stretford, accelerating plans that David has held for years. He described: "Our mortuary can now hold up to 20 people, whereas before it could
only have four. 
"This required losing a space in our car park, so with help from Jon, we were able to secure new parking spots nearby."
David is pleased to see more families than ever deciding to use the services of Arthur Gresty Funeral Homes, and looks forward to continuing serving the local communities for many years. 
He said: "Hardly any families have commented on us joining Funeral Partners because we really do run things as usual, only with a strong network
investing in us and helping us grow." 
To fellow funeral directors considering joining Funeral Partners, David has words of encouragement. He concluded: "Funeral Partners is definitely the best of all the scenarios you can move into from being an independent funeral director. It brings you a sense of security while letting you remain involved."
Interested in becoming a Funeral Partner?
Call either Sam Kershaw (Chief Executive Officer) on
07834 531 822
or Steve Wilkinson (Mergers & Acquisitions Director) on
07528 970 531