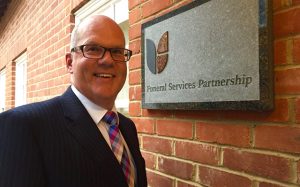 Funeral Partners, the UK's third largest funeral business, has chosen a stalwart of the industry to help drive its future growth.
Sam Kershaw, 53, has been appointed to the Board as Chief Operating Officer and will work closely with the firm's Executive Committee on developing the business.
"It's a very exciting time to be joining Funeral Partners as we are embarking on an ambitious programme of organic growth and strategic acquisitions that will enhance the organisation," he said.
"For owners wishing to sell their business, Funeral Partners offers a unique proposition by retaining the family feel and ethos of an independent business, caring for the their staff and providing investment for the future.
"Our growing business also provides excellent development opportunities for our staff and for highly motivated individuals looking to join us."
Following its acquisition of Laurel Funerals in June last year, Funeral Partners (part of Funeral Services Partnership) now employs more than 500 people and manages over 140 funeral homes across the UK, all of which have kept their original company names.
Mr Kershaw is a well-known and respected figure in the industry having spent more than 35 years working his way up from a trainee Funeral Director at JH Kenyon in London to senior management in Dignity and on to Board level with both Fairways and Co-operative Funeralcare.
He has also served as a member of the NAFD executive committee and is a past president of the LAFD.
Funeral Partners' CEO Phillip Greenfield said: "We are thrilled that Sam has joined us. He has the right blend of experience and drive to lead Funeral Partners' operations team into the next exciting stage of our development.
"He will be helping our team to achieve their full potential, supporting everyone in our business to be the best they can."