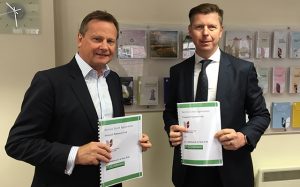 The UK's third largest funeral company, Funeral Partners, has sealed a further three year deal with one of its long-standing suppliers, J.C. Atkinson, for the provision of coffins, caskets and urns.
J.C. Atkinson has been supplying products to branches of Funeral Partners – as well as the branches it acquired from Laurel Funerals – for many years and is proud of its long association.
Funeral Partners' Chief Executive Phillip Greenfield said: "We have been extremely delighted with the level of service received from J.C. Atkinson over the years, as well as its extensive product range.
"By signing a further three year contract, we are able to ensure continuity of supply and provide competitively-priced products to our clients."
J.C. Atkinson, celebrating its 80th year in business, is particularly proud of its green, environmentally friendly coffins and caskets and is a former Sunday Times 'Best Green Company' winner.
The family-run company has been accredited with the ISO 14001 standard for the environmental management of its business and plants a tree for every solid coffin sold, with more than 10,000 trees planted to date.
Julian Atkinson, Managing Director of J.C. Atkinson said: "It is a great endorsement for Funeral Partners to commit to us formally in this way. We have a great working relationship and we look forward to being able to develop our business with this certainty.
"Having supplied Funeral Partners from the outset, we have provided them with every coffin they have needed. It's a great testament to our supplier partnership and of great benefit as they continue growing and acquiring new funeral firms."