A century of tradition and four generations of the same family are etched into the history of West Yorkshire funeral business George Steele & Son which has become part of the Funeral Partners family of businesses.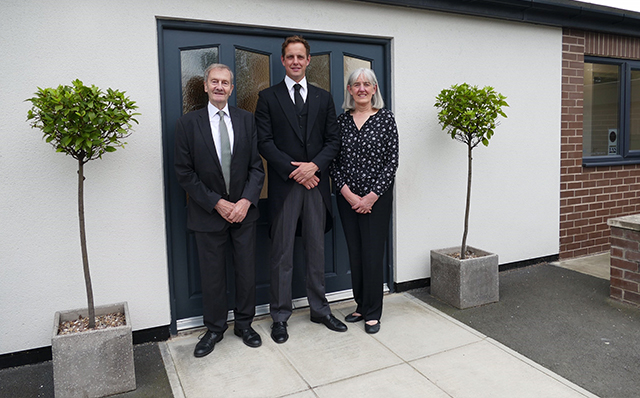 David and Christine Steele with their son Richard have served the communities of Ossett, Horbury and surrounding areas, trading from their Joiners and Funeral Directors business for most of their lives.
With David having worked in the business for nearly 70 years, the family were keen to maintain the respected name and reputation of the business and secure its future by choosing Funeral Partners.
The business was taken over by Richard's great grandfather Frank Burn, already an experienced cabinet maker and undertaker, in 1919, after the death of previous owners GF Heald and son JF Heald.
David's father George Steele took over and re-named the business in 1949 with David joining after leaving school. Christine subsequently joined the business after the couple married in 1980.
The family have lived on the site adjoining the Chapel of Rest and workshop since George Steele became proprietor. While Richard studied at the University of Huddersfield, he combined his studies with working in both sides of the family business and has continued to work in it ever since.
While Richard and his parents will remain as consultants, providing funeral services for the local families, they are looking forward to its future success with Funeral Partners.
Richard said: "We were very keen for the name George Steele & Son to continue. Funeral Partners have been sympathetic to maintaining our family traditions, they have understood that the joinery and building side of the business which has also existed from the start continues on the same site with the same name. It feels more like being affiliated or being a member of Funeral Partners rather than a larger company."
David added: "As a child I can remember my grandfather Frank Burn using a hand cart on funerals locally, which nowadays seems unbelievable. One thing that hasn't changed over the years is that funerals are so personal to families and each funeral is different. There is also a lot more choice available to families. Funeral Partners have understood the close relationships we have with people when they approach us for our services."
Funeral Partners' Area Development Manager Keith Clegg said: "George Steele & Son has a long history of providing a high-quality service to the local community. Being located close to our existing funeral homes at Wakefield and Huddersfield we will be able to provide the support required to allow the business to prosper and grow."
For more information about George Steele & Son, see www.georgesteeleandson.co.uk
Any Funeral Directors considering selling their businesses should contact Chief Executive Officer Sam Kershaw on 07834 531822 or email: sam.kershaw@funeralpartners.co.uk