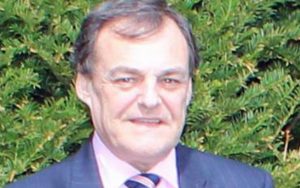 One of the UK's fastest growing funeral businesses has stepped up its expansion plans with the creation of a new Field Leadership Team fronted by a group of experienced leaders.
Funeral Partners Limited (FP) has appointed three new Regional Development Directors (RDDs) to look after the firm's 72 independent funeral businesses as well as new firms acquired as part of the company's impressive programme of growth. FP also owns a florist, carriage company, stone masons and a garage.
FP Managing Director John Whigham said the RDDs would play a pivotal role in reshaping the business, with excellent customer service a key priority across all the funeral firms within the group.
"We have chosen people who have great experience in multi-site operations across different customer-facing industries and who understand the acquisition process," he said. "We have given them more autonomy and responsibility to ensure they bring out the best in our 300-strong team."
Peter Dearing from Southampton has been chosen as the RDD for Thames Valley and the South Coast, which includes Hampshire, Dorset and Devon. He spent 28 years in food retail, previously working for the Co-op and Alldays.
He commented: "It's a great opportunity to support our existing funeral businesses on the journey of change. We'll be helping family businesses to grow while ensuring they remain at the heart of their local communities."
Julian Hodgkinson from Northwich near Manchester has been appointed as the new RDD for the North West, Yorkshire and the Midlands and has almost two decades' experience of working in the retail and finance sectors.
"We have an exciting opportunity to revolutionise the industry and ensure that our companies are delivering world-class customer service," he said. "We want to make our business different and focus on the celebration of life."
John Chester, based in London, has been appointed from within the FP team and is the new Regional Development Director for London, Kent and Sussex. His background in multi-site retail prior to joining FP a decade ago stands him in good stead.
"I want to ensure we are extremely professional in everything we do so the service we give our clients is top notch. I will also be looking at succession planning so we have people in place to move the business forward," he said.
A new Branch Development Manager has also been appointed for Kent and Sussex. Paula Hergest has worked across many roles in the funeral industry, and was previously with Laurel Funerals and the Co-op.
She said: "This is a great opportunity to ensure we deliver the best possible funeral service for families by giving our teams the skills and knowledge to support people through a difficult time."
Phillip Greenfield, FP Chief Executive, welcomed the new team at a time when the company is growing its footprint across the country. It recently acquired John Nodes Funeral Service in North London and has more acquisitions in the pipeline.
He said: "Our investment in FP continues unabated as we strive to deliver the best service across the industry. Not only have we strengthened our Field Leadership Team but we are also implementing a new learning and development programme in order to enhance the skills of our staff.
"There has never been a better time for companies to come on board. It's a very exciting time for us and we're looking for motivated people who want to be part of our success."