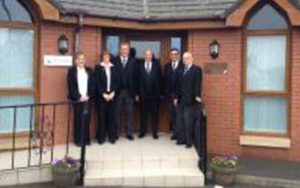 The UK's third largest funeral company, Funeral Partners, has made its first foray north of the border after buying Scottish company ML Williams.
Just two months after acquiring 47 Laurel branches, Reading-based Funeral Partners has bought the Ayr-based independent funeral company set up by Michael Williams in 1982.
Funeral Partners' Chief Executive Phillip Greenfield said: "This is an exciting move for us, heralding the start of our expansion plans in Scotland. ML Williams will retain its name and will continue to provide an excellent service to the local community from its purpose-built premises."
Michael Williams will remain as a consultant and the nine staff have transferred across to the new company. He said: "I am thrilled to hand over the reins to such a progressive and forward-thinking company as Funeral Partners.
"We are honoured to be the first company in Scotland to join the team and, having heard about the plans for growth, are excited about what the future holds."
The latest acquisition brings the total number of Funeral Partners' branches to 131, with more than 500 staff.
Funeral Partners' Managing Director John Whigham added: "This is a significant move for us, providing fantastic premises which are strategically located, providing an entry not just to the Scottish market but to Ayrshire and greater Glasgow."