Long established family business Ian Brown Funeral Directors in Carstairs has become a part of FuneralPartners as it grows its Scottish presence.
Ian Brown Snr, who is now retired, acquired the business from Wm Gray & Sons in 1958 as a traditional joiners and undertakers.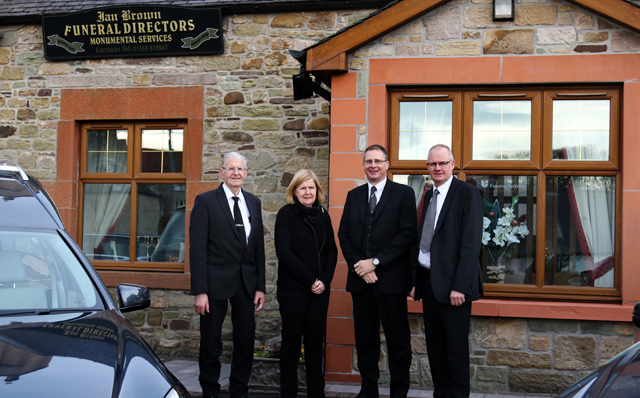 In 1988 Ian Snr realised that to ensure a professional and personal service which offered value for money, the business had to focus on one aspect only and Ian Brown Funeral Directors was established.
Over 40 years ago, Ian Brown Jnr joined the business from school to follow in his father's footsteps. He said: "We are looking forward to a new chapter with Funeral Partners. Although they are a larger company, their core values matched those of our family business.
"We all know the world is continually changing, from technology to legislation, such as health and safety and employment laws. These all impact a family business too, and take time and energy. I wanted to ensure that the personal care and service, which had been my father's focus, remain.
"Now I have the backup of a team which has this knowledge and expertise, it allows me to concentrate solely on the funeral side of the business and to carry on my father's values, ensuring all bereaved families receive a professional and personal service which meets their needs and offers value for money.
"One day I would also like to retire myself and enjoy some time off but that's a good few years away yet."
Fraser Mckay, Funeral Partners' Operations Manger in Scotland said: "Ian Brown is a high-quality funeral business serving the community of Carstairs and Lanark and we are proud to welcome them as our third funeral home in Scotland."
The team is currently made up of Funeral Directors Ian Jnr, in Funeral Director Assistants Tom Duncan and David Howitt, and Ian Jnr's wife Linda works as a part-time Funeral Administrator. The business is also looking to employ another full-time Funeral Director and part-time Funeral Administrators.
Any FuneralDirectors considering selling their businesses should contact Funeral Partners'Chief Executive Officer Sam Kershaw on 07834 531822, email: sam.kershaw@funeralpartners.co.uk