Funeral Director Stephen Dutton has joined Funeral Partners to continue to serve the community of Chester as his family's businesses did through both World Wars.
Stephen and his cousin Simon Dutton, Principal Funeral Director, will carry on serving local families at Dutton & Hallmark Funeral Services in Hoole.
Stephen's great grandfather went into competition with his own father, founding Edgar Dutton & Sons in the 1860s.
Local bakery owner William Hallmark provided catering for Edgar Dutton & Sons around World War I, eventually transforming his business into a competitor.
In 1939 W H Hallmark, then run by Wilfred Griffin, agreed to end their differences with Edgar Dutton & Sons and help one another through the perils of World War II by sharing materials in short supply.
The allied businesses closed by 1973. However Stephen, now married into the Griffin family, joined forces with his mother-in-law Gwyneth Griffin to again provide Chester with personalised services after attending a mutual friend's funeral.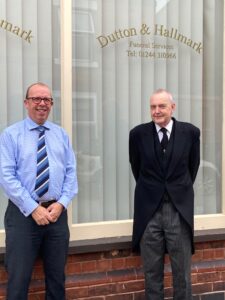 Stephen said: "A very good friend of mine died in his twenties and I was unhappy with the way the funeral was conducted. We were all saddened by the lack of respect."
Stephen obtained an agreement from his father and Gwyneth to merge the Dutton and Hallmark names and began a new dawn in 1991, with his cousin Simon joining five years later.
With family being an integral part of Dutton & Hallmark's history, Stephen and Simon look forward to integrating into the Funeral Partners family.
Stephen said: "Funeral Partners are the only company that come across like a family. They give us a lot of autonomy which is an important sign of trust."
Angela Worrall, Area Development Manager of Funeral Partners North, said: "Stephen and Simon are still the face of Dutton and Hallmark and running it like a family business and we are here to support them wherever we can. We have already planned investment into new furnishing and decorating."
Sam Kershaw, CEO of Funeral Partners, added: "Dutton & Hallmark has built a trustworthy reputation in Chester over the course of its rich history and we look forward to seeing it thrive with Funeral Partners."
For more information about Dutton & Hallmark Funeral Services, which is based in Hoole, see www.duttonandhallmark.co.uk
Any Funeral Directors considering selling their businesses should contact Chief Executive Officer Sam Kershaw on 07834 531822 or email: sam.kershaw@funeralpartners.co.uk