One of the hardest things bereaved families have had to face during the coronavirus crisis is not being allowed to say their final goodbyes to their loved one in the way they would wish.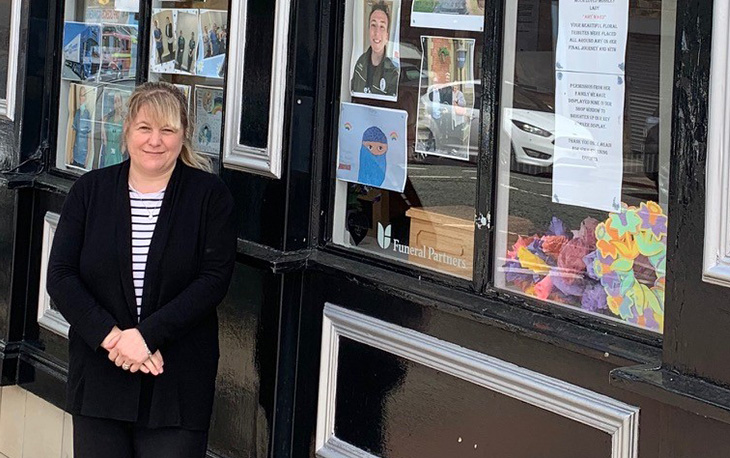 Funeral Directors have been going the extra mile, trying to add small personal touches to support families through this distressing time.
Anthony Barton, Funeral Director at Elizabeth Way Funeral Directors in Greater Manchester, who joined Funeral Partners last year, explained: "The ways things are at the moment is particularly sad. If the person died of Covid-19, their loved ones may be self-isolating and haven't been able to see them for weeks.
"One elderly man who lost his wife had been married for 67 years. She died in hospital and he hadn't been allowed to see her. He was surprised and so grateful when we said he could come to see her in our Chapel of Rest.
"He was a different person afterwards, he couldn't thank us enough for allowing him to see his wife again and say his final goodbyes."
Anthony said, with only ten people allowed to attend a service, families also greatly appreciated the offer to page the funeral cortege outside the deceased person's home.
"It gives people the chance to pay their respects on the street before the funeral. When we arrive outside the house, family, friends and neighbours come out and the whole street starts clapping."
Anthony said the team had received heartwarming feedback from families thanking them for helping to make arrangements go as smoothly as possible despite current restrictions. "We've had lots of cards, chocolates and wine. It's very humbling."
Sarah Lockton, Funeral Director at Torbay & District Funeral Service in Torquay, also part of the Funeral Partners network, has also tried to go above and beyond to ensure families can give their loved one a fitting send-off.
"It's really terribly sad to see only ten people in the chapel, sitting apart in order to be socially distanced," she said. "You just can't do everything you would normally want."
Sarah has helped some families by facetiming them from her phone so they can follow the funeral service. "There are a lot of elderly and retired people in the area without family nearby. It helps their relatives to see that someone is attending their funeral."
Sarah goes out of her way to add small touches, for example, one deceased person liked pink and she arranged for the pall bearers to wear pink ties. At no extra cost, she ordered pink buttonholes for the team to wear.
"People do notice, it's the little things we can do for them, even when only a few mourners can attend," she said. "We have had lovely feedback, families have been amazing and really understanding."
Sarah received a note of thanks from one family which said: "I cannot tell you how happy I was with everything you did. I noticed and appreciated the personal touches and I was touched and pleased. Dad would have been too.
"I would just add that there are good funeral directors and very good funeral directors, but you are in a class of your own and should be very proud of the way you look after people."
At Elizabeth Way and Torbay Funeral Service, along with most Funeral Partners funeral homes, the teams have connected with their communities by decorating their funeral home windows with children's pictures, showing their support for the NHS and key workers.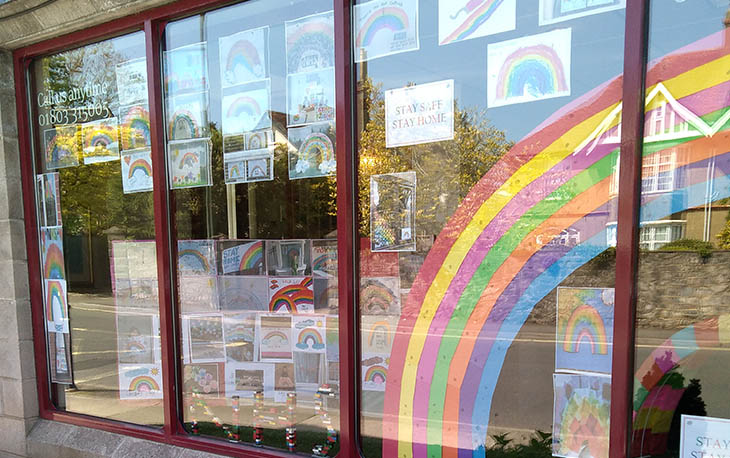 Sarah posted on Facebook asking for children's pictures and received nearly 80 – she had to supplement the window display with a noticeboard inside the branch. As part of their daily exercise routines, local families bring their children to see her window.
Anthony and Funeral Arranger Tami Peel at Elizabeth Way initially ran a children's rainbow drawing competition, judged by a local church minister, following it up with a superhero window display where children of key workers were invited to submit pictures they had drawn of their parents.
This resonates with Tami, who is a qualified nurse and, since the coronavirus outbreak, has been helping out her local NHS Trust by working night shifts on a Covid-19 ward at Tameside Hospital.
Tami said: "It's been a juggling act and has been emotionally draining. My own children have coped really well, with my eldest helping out and being like a second mum to my four-year-old daughter."
Anthony said he and Tami had been doing everything they could to support their community and had received messages from local residents saying the window display made them smile. To thank key workers, the team compiled a video featuring the children's posters, backed by a local singer singing 'Somewhere Over the Rainbow'.
Funeral Partners Regional Development Director, Phil Barr, added: "Tami and Anthony are doing a fantastic job. It certainly makes you sit back and think about the amazing work that key workers are doing across communities."